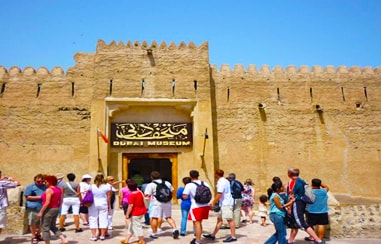 Full Day Explore Dubai City Tour
Duration:7 Hours (Approx)
Confirmation Comments
INSTANT CONFIRMATION
CANCELLATION
24 hours prior to the Tour departure
Description
Dubai is a fascinating city. With a sandy coastline, architectural wonders, enormous malls and a culturally rich past, Dubai is a truly awe-inspiring place. We provide a tour package that gives you the opportunity to explore this Emirate city in the best way possible.
There is no dearth of landmarks in this awesome city and each structure or place has something unique in store. Right from the tall skyscrapers to the historical buildings, we would give you a glimpse of the entire city in just one day.
We begin our journey by visiting the Dubai Creek, which has Deira on one side and Bur Dubai on the other. We also take you to the upscale areas of Dubai including Dubai Marina and Jumeirah. Apart from this, you get to visit as well as shop at the Dubai Gold Souk which has some of the best jewellery stores.
The tour includes a trip to the Dubai Museum, spice souk, art galleries, date souk, Jumeirah Beach, Burj Al Arab, Atlantis the Palm, etc. The tour ends at the marvellous Dubai Mall. Though we offer a short visit to this mall, you can stay here for a longer time for some irresistible shopping. Otherwise, we would drop you back to your hotel.
So, what are you waiting for? Call us today to make your reservations!
Individuals can also book this tour, as per its availability and in line with group departure timing. Based on your request, we can arrange a pick up from other emirates for a small extra surcharge.
Inclusion
Hotel Pick up

Bastakiyas (heritage)- walking through


Dubai Museum walk

Abra (Traditional Water Taxi)

Spice Souk

Gold Souk

Jumeirah Mosque (Drive by)

Jumeirah Beach

Burj Al Arab (Photo Stop)

Madinat Jumeirah (A drive through)

Atlantis Hotel Photostop

Dubai Marina

Mall of the Emirates (Drive by)


Dubai Mall with the Fountain Show (opportunity to stop and view the fountain show later in the evening)

Burj Khalifa Photo opportunity from the waterfront at the Dubai Mall (can enjoy the spectacular view of the fountain show at the same time)

Hotel

Drop off
Timings
| Duration | Departure Point | Reporting Point | Tour Language | Meals |
| --- | --- | --- | --- | --- |
| 7 Hours (Approx) | Hotel (Centrally located in City Center Area Dubai / Sharjah Sahara Centre Dubai Side) | Hotel Lobby | English / Arabic | |
Useful Info
Seating arrangement for all transfers are as per the availability & our tour manager allows it.
The pick up/drop off timing can be modified as per the trip schedule. This also may change depending on traffic conditions and your location.
Some of the mentioned inclusions may remain closed on weekends or specific days as per the government norms for which we do not hold the responsibility.
The actual transfer timing may vary up to 30/60 minutes to the time listed on the website.
Summer clothing is suitable for most of the year, but sweaters or jackets may be needed for the winter months.
We recommend carrying sunglasses, hats and sun protection cream.
Private Transport can be organized on request for all tours.
Leaving off your personal belongings like Media equipment, wallets or any other valuable items in our vehicles or tour sites is solely at your responsibility. Our drivers and tour guides will not be responsible for it.
No strollers allowed inside the vehicles without prior information so please inform us at the time of making the reservation.
An adult must accompany children from 3 to 12 years in the water in any of the water activities
On Islamic occasions and National holidays, the tour will not serve alcohol, and there will be no live entertainment.
Please read carefully and understand the contents of the Tour Brochure/itinerary, the 'Terms and Conditions,' Price Grid and such other documents as may be applicable, as all these will form part of your contract with us once you affect the booking.
Photography of UAE residence especially ladies, military institutions, government buildings, and installations, is strictly prohibited.
Littering is a punishable offense and offenders may face penalties in the form of fines.
Smoking inside public areas is not allowed.
Some tours require your original passport or Emirates ID, and we have mentioned this information in the critical notes so please ensure that you read the critical information, we will not be responsible if you miss any tour where your passport or ID is mandatory.
We reserve the rights to charge 100% No show charges if the guest is not turning up on time for the pickup.
No refund for partly utilized services.
Due to any uncontrollable circumstances, i.e. (traffic conditions, vehicle breakdowns, delay by other guests, weather circumstances), if the tour gets delayed or canceled, we will provide alternate options if possible.
If in any case the guest does not show up on time and our vehicle departs from the pickup location then we will not arrange for alternative transfer & no refund is provided for the missed tour.
Booking Policy
All Cancellations made 24 hours prior to the Tour departure time NO charges will be applicable.
If Cancellation made within 24 hours to your Tour departure time 100% charges will be applicable.
If eligible for Refund your Amount will be returned back to your Account within 7 working days
Ticket Policy
- Once your tickets are issued system will not allow you to cancel any order
Terms & Conditions
We reserve the complete right to reschedule an itinerary or route, adjust pricing, or even cancel a tour whenever, at our sole discretion, mainly if we deem it is vital for your safety or convenience.
Unused inclusion in a tour package is non-refundable.
Any guest failing to reach on time at the designated pick-up point will be considered a no-show. No reimbursement or alternative transfer will be arranged in such circumstances.
Should a tour booking be cancelled or altered for reasons of bad weather, vehicle issue or traffic problems, we will make all sincere efforts to arrange alternative service with similar options, however, based on its availability.
The arrangement of seating will depend on its availability and will be done by our driver or tour guides.
Pick-up and drop-off timings listed on the website are approximate, and they will be adjusted as per your location as well as traffic conditions.
Coupon Codes can be redeemed only through online booking process.
We reserve the right to charge 100% No Show charges if guests do not turn up on time for the pick-up.
In any case the guest does not show up on time and our vehicle departs from the pickup location, then we will not arrange for alternative transfer & no refund is provided for the missed tour.
Seating arrangement is done as per the availability & it is decided by the Driver or Tour Guide except in case of private transfers.